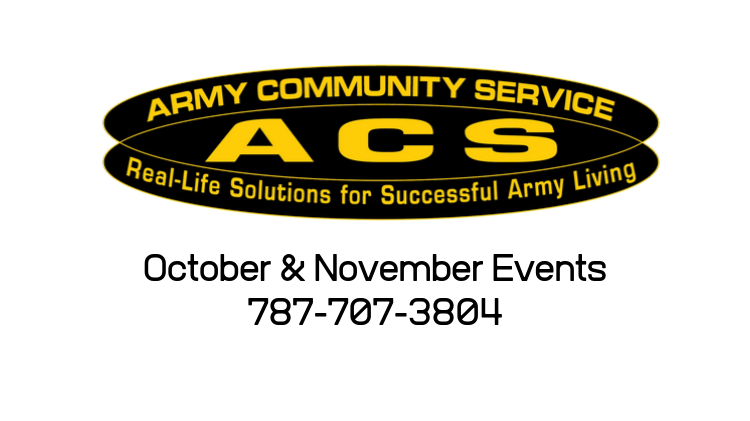 ACS October & November Events
Note: This event has already passed.
Date: Oct 8 2019 - Nov 28 2019
Army Community Service (ACS) - Army Community Service Bldg 225 Fort Buchanan 00934 Google Map
EXCEPTIONAL FAMILY MEMBER PROGRAM
Classes for October and November:
Tuesday, October 8: 8 a.m. - 9 a.m.
Resilience- People with special needs can be resilient.
Tuesday, October 22: 1:30 p.m. - 2:30 p.m.
How to use the online training "DirectSTEP"
Direct specialized training for education professionals.
Tuesday, November 12: 8 a.m. - 9 a.m.
Advanced WEB Search- search for resources related to special needs.
Tuesday, November 26: 1:30 p.m. - 2:30 p.m.
Understanding Section 504 (Reasonable Accommodation)
Eligibility and how it works in schools.
**All classes will be held at ACS Conference Room Bldg. 225. 787-707-3295 / 3804
MOBILIZATION AND DEPLOYMENT READINESS PROGRAM
Service Members, Family Members, and Civilian personnel are invited to the
ARMY FAMILY TEAM BUILDING (AFTB) TRAINING
(Personnel Growth and Resiliency (G) Level)
When: Wednesday, October 9 & 30
from 8:30 a.m. - 12 p.m. and Wednesday,
November 6 & 20 from 8:30 a.m. -12 p.m.
Where: Army Community Service (ACS)
Conference Room, Bldg. 225
Purpose: To learn about the AFTB Specialist Training to build strong, knowledgeable and engaged individuals and communities.
For more information and to reserve your space, please contact: Mr. Ernesto Berrios
Mobilization and Deployment Readiness Program Specialist
787- 707-3290 or email ernesto.berriosrivera.civ@mail.mil
FINANCIAL READINESS CLASSES
Reserve the dates and sign up for October, November and December classes! They will all be held at Bldg. 507 from 8 a.m. to 10 a.m.
PLANNING AND BUDGETING
Provides participants with simple tools for evaluating their present financial situation, setting up a budget to control personal finances, and planning financial goals for the future.
Date: Tuesday, October 8
BANKING AND CHECKING:
This lesson explains how to choose the financial services and financial institutions that best meet the needs of the participant.
Date: Tuesday, October 15
SAVINGS AND INVESTING
Focuses on the keys to successful saving and investing. Save and invest to reach goals, learn all you can about investing.
Date: Tuesday, October 22
USING CREDIT WISELY
Discusses the advantages and disadvantages of using credit.
It explains how lenders calculate the interest rates on money that they lend.
Date: Tuesday, November 12
GETTING INSURANCE
The class provides an overview of the basic types of insurance that we must have and develops the participant's awareness of the insurance that we do not need.
Date: Tuesday, November 19
PERSONAL FINANCE
This lesson explains the importance of controlling personal finances and planning for a stable financial future.
Date: Tuesday, November 26
CONSUMER RIGHTS
Focuses on consumer rights, obligations, and highlighting scams perpetrated to defraud consumers.
Date: Tuesday, December 10
More information, please call 787-707-3310 or email: edwidg.pedre2.civ@mail.mil